ARVE Error: The [[arve]] shortcode needs one of this attributes av1mp4, mp4, m4v, webm, ogv, url

Production Advantage


Packaging, tracking and labeling solutions from field to finished product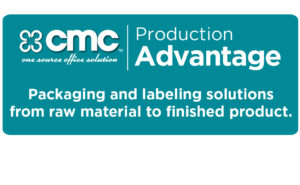 CMC's Production Advantage Program will supply single or multi-plant facilities, whether the client is a food company, manufacturer, filler, co-packer or decorator.  We have experts with decades of experience and time tested solutions across many industries.
Members can leverage CMC's huge buying power to their advantage:
– Access to thousands of products and hundreds of specialized manufacturers that do not sell direct
– Members only pricing on labels, packaging, SKU's and tracking programs
– A secure, easy, online portal where your Team can order marketing materials form anywhere they roam.
– Priority or overnight on-site shipping of the materials anywhere in the world.
– Buy in bulk without having to store pallets of materials
– Access to the CMC Team of industry specialists with a portfolio of solutions to lower your costs and make your life EASY.
– And more
CMC is your One Source for all your business need delivered right to your door.
Apply HERE for the Production Advantage Program
__________________________________________

INCREASE SALES  

IMPROVE PRODUCTIVITY   

REDUCE COSTS
With CMC's tremendous buying power and competitive pricing,
you'll see a reduction in cost and reap
the benefits of an enhanced bottom line.
For almost 40 years now,  leading companies, like yours,
have relied on CMC as an indispensable resource to provide
sound solutions for all their business needs.
We'd like to invite you to do the same.
What's our secret?
CMC's top-notch Sales Executives, Marketing and Design Department,
with a dedicated Customer Service Team,
offer years of experience and product knowledge.

A Certified Minority, Woman Owned, Business Enterprise.