ARVE Error: The [[arve]] shortcode needs one of this attributes av1mp4, mp4, m4v, webm, ogv, url

Marketing Advantage


A Powerful Suite of Tools for Promotion and to help Boost Sales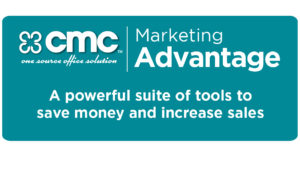 Marketing creates leads and drive sales, but can be a huge expense. The goal – keep your acquisition costs LOW and profits HIGH.
CMC's Marketing Advantage Program is designed to help companies reach their target market with industry leading website design, marketing materials and direct mail services.
Members can use CMC's expertise to help them with:
– Using key elements to develop a successful marketing strategy to build awareness of your company's Branding.
– Finding the right promotional products and promotional apparel
– lower pricing on web design and production or to update and maintain
– using our secure online portal where your Team can order marketing materials
– Lower pricing for your company's graphic design needs
– Access to the CMC Team of industry specialists with a portfolio of solutions to lower your costs and make your life EASY.
– And more
CMC is your One Source for all your business need delivered right to your door.
Apply HERE for the HR Advantage Program
__________________________________________

INCREASE SALES  

IMPROVE PRODUCTIVITY   

REDUCE COSTS
With CMC's tremendous buying power and competitive pricing,
you'll see a reduction in cost and reap
the benefits of an enhanced bottom line.
For almost 40 years now, leading companies, like yours,
have relied on CMC as an indispensable resource to provide
sound solutions for all their business needs.
We'd like to invite you to do the same.
What's our secret?
CMC's top-notch Sales Executives, Marketing and Design Department,
with a dedicated Customer Service Team,
offer years of experience and product knowledge.

A Certified Minority, Woman Owned, Business Enterprise.