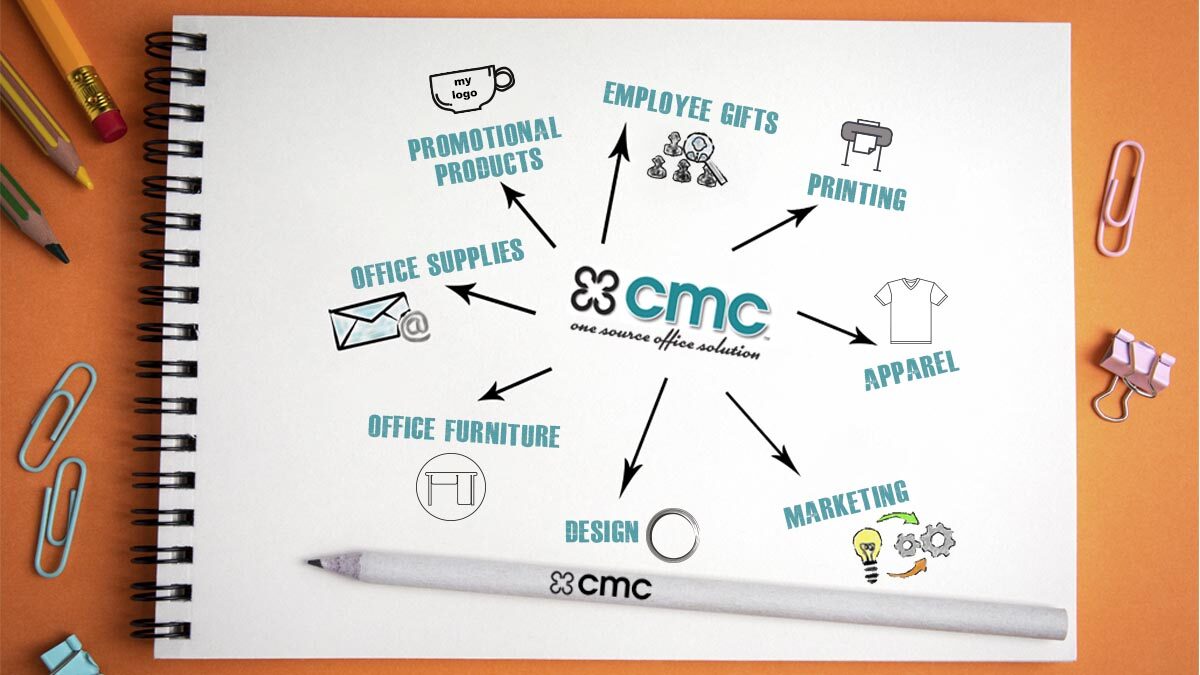 One source for all your business
needs delivered right to you!
CMC is based in Lakeland, Florida, in the center of two major cities in Central Florida, and we have been in business since 1983. We supply small businesses to multi-billion dollar corporations with all business products and services from office supplies, printing to marketing services.
It comes as no surprise that for almost 40 years, leading companies, like yours, have relied on CMC as an indispensable resource to provide sound solutions for all their business needs, and we'd like to invite you to do the same.
With CMC's tremendous buying power and competitive pricing, you'll see a reduction in costs and reap the benefits of an enhanced bottom line.
We are one of the best office supply companies because our prices are affordable, our services are second to none, and we have been recognized in the industry as a top distributor. CMC received recognition of ranking in the top 100 distributors in the industry by Print Professional Magazine and Print Solutions Magazine.
Our amazing growth was recognized by the PSDA (Print Services and Distribution Association) in its "Print Services" magazine. PSDA has over 1,000 members of Print Distributors and Suppliers who support the industry. The June/July 2017 issue of "Print Services" magazine ranks the performance of its Top Distributors. CMC ranked as the 36th largest distributor in the association. CMC also ranked as the 6th fastest growing in the association, with 21% growth in sales. This growth was achieved in the face of strong competition from the national office supply stores and Amazon and Vista Print.
CMC's success has been credited to satisfied customers through quality office and business products, competitive pricing and customer service.
Our secret is CMC's top-notch Sales Executives, Marketing and Design Department, with a dedicated Customer Service Team, offer years of experience and product knowledge.


Commercial Printing printing needs, from checks, stationery, financial documents to greeting cards and invitations. Banners, posters and more!
Graphic Design and Branding innovative vision, years of design experience
Promotional Marketing corporate apparel, branded calendars, logo-printed bags, magnets, pens, mugs, and more
Direct Mail Campaigns and eBlasts Hit your target and get your message out
Websites & Social Media, SEO, SEM Let's create more visits, page views with analytics and boosts
Integrated Marketing create a unified and seamless experience for consumers to interact with the brand
Online Ordering Catalogs your entire business product needs can be placed on your personal online ordering catalog
Warehousing and Fulfillment Storing your consumables in our warehouse and placing orders for us to deliver to you, save you money
Filing Systems CMC can supply you with all the filing systems you need to keep your company organized
Office Furniture office furniture, healthcare and rental furniture. We can help design your project.
Business Forms bank forms, envelopes, purchase orders, invoices, work orders and much more
Office Supplies copy paper, receipt rolls, filing systems, toner and ink cartridges, and more
Labels Pressure sensitive labels, custom product labels, shipping labels, and more
Inventory Management warehousing, inventory fulfillment, inside delivery, computerized inventory management, and more